Christmas Gifts that actually Children want this year

The holiday shopping season is started and everyone is looking for the best gift for
children. Christmas is here in less than 1 month. Whether you are looking for gift for toddlers or
Babies , we have made a list of the right items to bring them joy and happiness.
Dr Montessori told that children's minds have the ability to absorb knowledge effortlessly. Not only
that children have the innate power to educate themselves. They are also able to carry out all kinds
of useful and effective tasks. We know now that learning is a basic need for children, and during
their early years they absorb knowledge from the environment as if they were little sponges, so isn't
great if they can learn through play? This will happen as long as the surroundings provide them
with sufficient stimulus. Montessori wooden gifts for children is the best gift to keep children
educated, interested and physically involved with work with little fingers, climbing, jumping,
playing and training. There are different kinds of sets- bigger and smaller for small children and
toddlers. Your child will always be happy to have his small or big playground at home. So just look
at what we have prepared for Your family for this Christmas: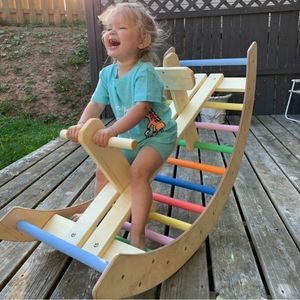 Climbing Arch

Our climbing arch and swing is both a fun toy for children aged up to 5 years old, as well as a
learning tool for babies and toddlers who are just developing their motor skills. Based on
the methodology, the climbing arch is an excellent training device designed to develop your baby's
muscles, balance control, courage and other important skills. The climbing arch can also be
customized with climbing boards and a swing, to make playing with it even more fun!
Each climbing arch is made from high class polished aspen wood and painted with safe and eco-friendly wax.
The aspen wood is very strong and flexible, ensuring high quality for each product.
The wood is painted with ecological, baby safe natural protective wax for wood, containing
linseed oil that is specially prepared for wood processing, colophony (pine resin), beeswax and
composition of other high-quality waxes, it has a pleasant aroma of honey. For sure a lot of fun for
Your child!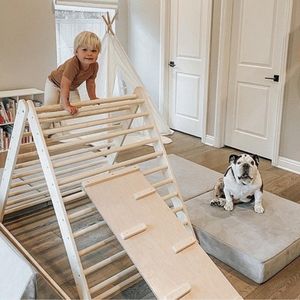 Triangle 120

This toy is made from high-class polished aspen wood and birch plywood. Both the triangle and
the ramp are painted with childproof eco-friendly wax. Aspen is a very strong and flexible material,
ensuring the quality and safety of this product. It helps to teach invaluable skills like pulling up,
climbing, grip, balance, gross motor skills, physical boundaries. It grows with Your children, they
are always busy at home- playing and developing physically. It's an open-ended, imaginative toy
with endless ways to be used. It encourages creative and imaginative play.
Combine this triangle based on the method with a ramp or other accessories to create more and
more new ways how to play and learn. The triangle is an excellent training device designed to
develop a baby's muscles, balance control, courage and much more.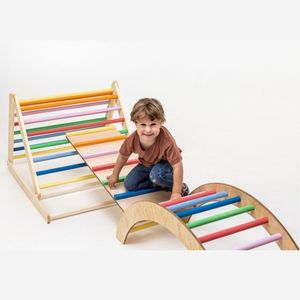 Climbing set

The climbing set is an excellent training device designed to develop a baby's muscles, balance
control, courage and much more.
Climbing toys is shipped disassembled. Putting together the triangle is easy, assembly instructions
are included in the package. The triangle is folding and takes up little space.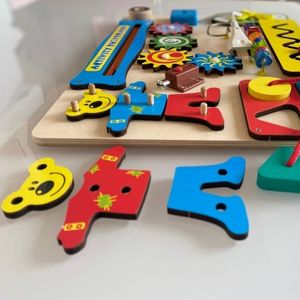 Busy Board
Busy boards are a great sensory activity for babies and a learning activity for toddlers through
preschool. They work Montessori inspired practical life skills, fine motor skills, and so much more.
There are so many benefits of busy boards including independent play and concentration. People
tend to assume because something is wooden, that makes it Montessori, but that isn't the case.
Montessori focuses on teaching a single skill at a time. This is based on the belief that children
need to be encouraged to explore the world around them. Play is a huge part of a child's
development.

Children learn quickly through play by touching and exploring various objects. A busy board is a
Montessori Toy stimulates learning through experiments. This toy child can touch and
hold. Learning to manipulate everyday objects help children develop their fine motor skills. It will
also help him figure out and work things out on their own and at their own pace. The best way to
provide your child with the full sensory experience is to give him a Montessori busy board.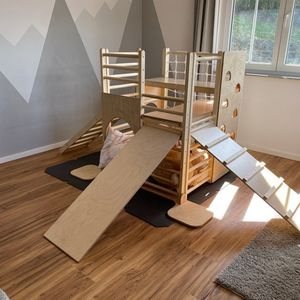 Square gym

The Square gym is made from polished high-class aspen wood and painted with babyproof eco
wax. Aspen wood is very strong and flexible.
The gym is an excellent training and play device designed to develop a baby's muscles, balance
control, courage and much more. This is a fantastic place for your child.

You don't need a lot of toys for your toddler. Less can be more with a curious toddler who loves to
tinker. What they love are playing with wooden blocks, jumping on a mini couch, tinkering with a
box of plastic kitchen tools, strewing paper across the living room floors, and enjoying an open-
ended play. These are all designed to develop their gross motor skills and provide an opportunity for

toddlers to explore their surroundings.