Home For Dreams was founded in 2017 to produce ecological wooden beds for childrens.We realized that the tree is a grateful material for the production of children's toys and accessories, so we continue to expand the supply of wood products by introducing new bed models, new toys and items.

For our customers we offer individual products. You can contact with us about making the product you need or making adjustments to existing products. We can adapt sizes, colours, accents, etc.
More about our works and
reviews of customers You can find here


*We export our products to all countries of the world.

*Only on the etsy.com platform, we have already sold over 15000 products.

*Our products can also be purchased at Amazon.

Climbing triangle based on the Emmi Pikler triangle method is a playing device that uses children's natural love of climbing to help them develop their muscles, motor skills, balance and other important aspects of early development. To get the most out of this excellent design, we offer a variety of toys inspired by Emmi Pikler– starting from classic triangles of various sizes using Emmi Pikler triangle idea to climbing arches, swings and activity gyms, as well as transformable climbers according to Emmi Pikler triangle idea that can be modified into various shapes. In addition to that, all of them can also be customized with various accessories, like ramps, slides and climbing ladders.
What's especially great about toys based on the methodology of Emmi Pikler is that they are sold in various sizes and some models even provide the option to adjust the height and shape. This makes it suitable for children of various ages – from toddlers learning how to make their first steps to 7-year-olds who enjoy climbing as a fun activity. For younger children, it's a great way to test their abilities and learn new movements, meanwhile, for older ones it helps to develop their imagination, as the climbing triangle can become a fortress, a mountain or anything else they like to imagine when they're playing. Because of that, you can be sure that the climbing triangle based on the Emmi Pikler triangle method is a toy your child will enjoy for years, instead of becoming bored just after a few months.


Whether you have a baby that has only just discovered their love for climbing or an older child that needs a safe and fun way to offload their energy, this is one of the greatest toys you can get them. Discover our range of climbing triangles depends on Emmi Pikler triangle concept available for sale below and pick the one that your kids will enjoy the most!
Materials
We make toys and furniture for childrens from high-end wood and use only ecological materials, eco waxes and eco paints.
Furniture and toys are made of polished, high-end aspen or alder wood.
The wood of aspen is white, very durable and elastic, well suited for toys and furniture.
The wood of alder is reddish-brown, it is suitable for children's furniture of different styles.
In the production process the wood is only treated with ecological products:
Treatment with wax
Treatment with colour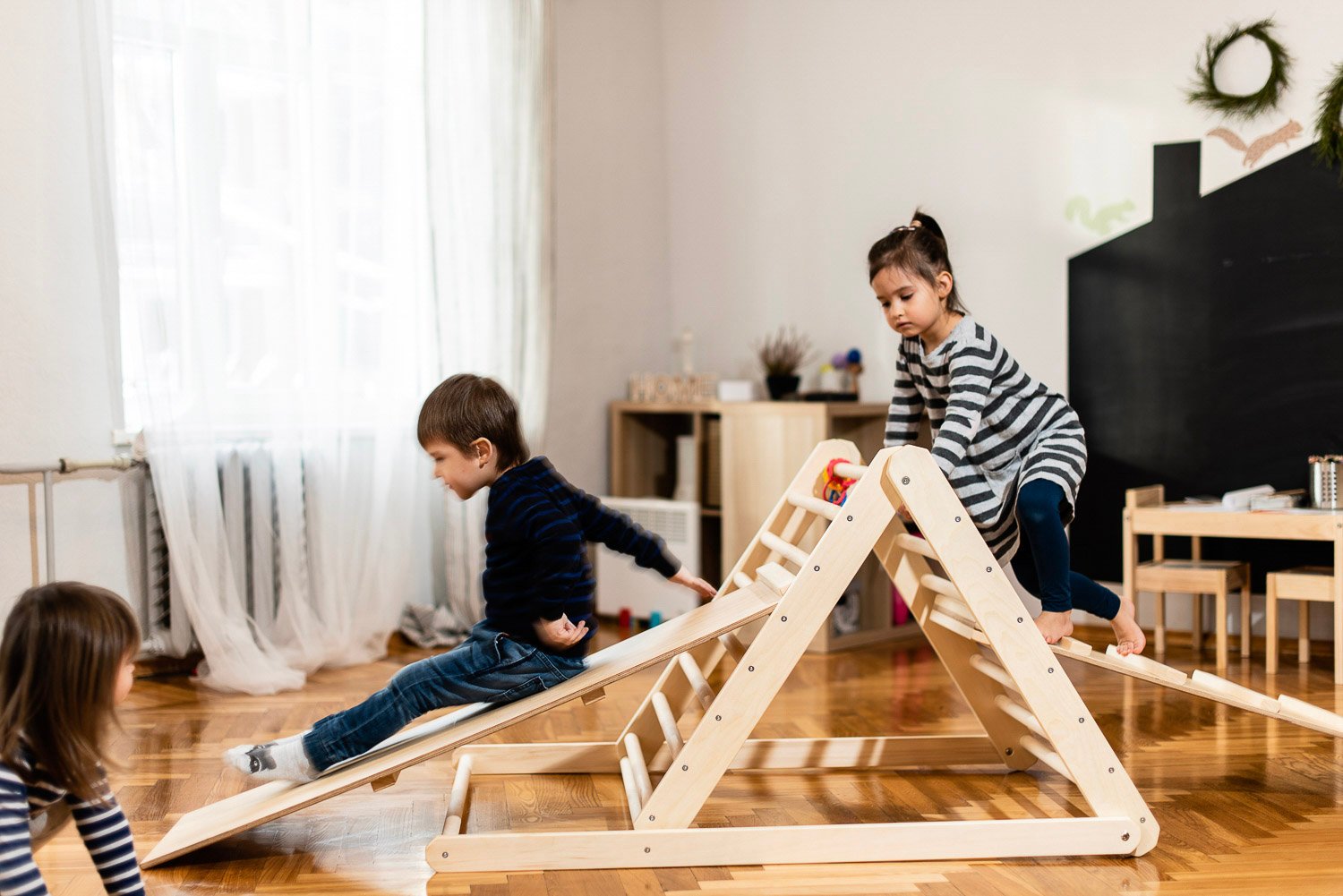 Treatment with wax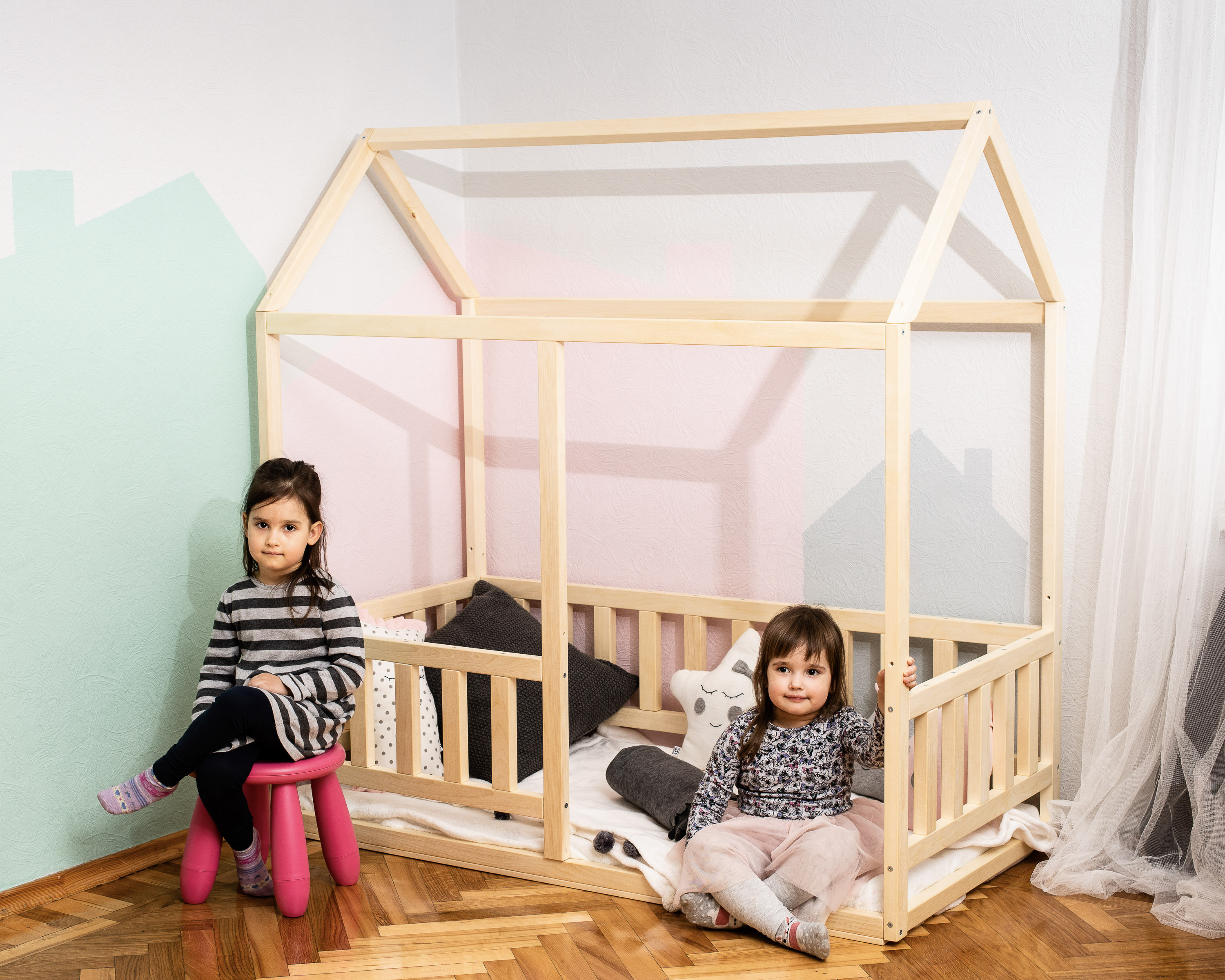 The wood is painted with ecological, baby safe natural protective wax for wood, containing linseed oil that is specially prepared for wood processing, colophony (pine resin), bees wax and composition of other high quality waxes, it has a pleasant aroma of honey.
Waxed wood surface continuously maintains velvety gloss, obtains additional wear resistance and water-repellent features. Wax prolongs wood lifetime and fills scratches. Just waxed surfaces inhere slight honey aroma.
Advantages of wax for wood:
Natural product containing bees wax.
Protects from moisture and dirt.
Ensures antistatistic features of surface (doesn't attract dust).
Grants slightly velvety gloss.
Waxed surface is easy to clean.
Coating can be easily renewed, also locally.
Increases mechanical wear resistance of the wood.
Doesn't form a film on the wood; therefore doesn't peel.
Waxed wood breathes.
Has pleasant honey aroma.
WAX DOES NOT CONTAIN ANY CHEMICAL ELEMENTS AND IS SAFE FOR YOUR BABY!
Treatment with colour
If you want we can paint the wood with water based eco paint.
Available any colors: white, green , red, pink , black, brown, beige, yellow, blue, purple, lavender and others.
We used Vivacolour Green Line Furniture 30.
More information in English
More information in Latvian un Russian
You will also receive instructions and required tools for assembling the bed or toys.